Spicy Roasted Brussels Sprouts Recipe

Paleo | Whole30 | Keto | Veggies 

Roasted Brussels sprouts.  Oh how I wish I had found this fantastic way of cooking spouts earlier in my life!  This Brussels sprouts recipe is nothing like what was available growing up.  Our family never had Brussels sprouts when I was a kid.  On the rare occasion that they were offered at a family gathering or some other special dinner, I remember never liking them - mostly because they were usually mushy, smelled bad, and tasted even worse.  Thinking back now, I'm not sure that I would eat them today if I was limited to under-seasoned, boiled, or steamed sprouts.  Fortunately, there are lots of other options that bring out the natural flavor of the sprouts, and eliminate the mushy, smelly side effects.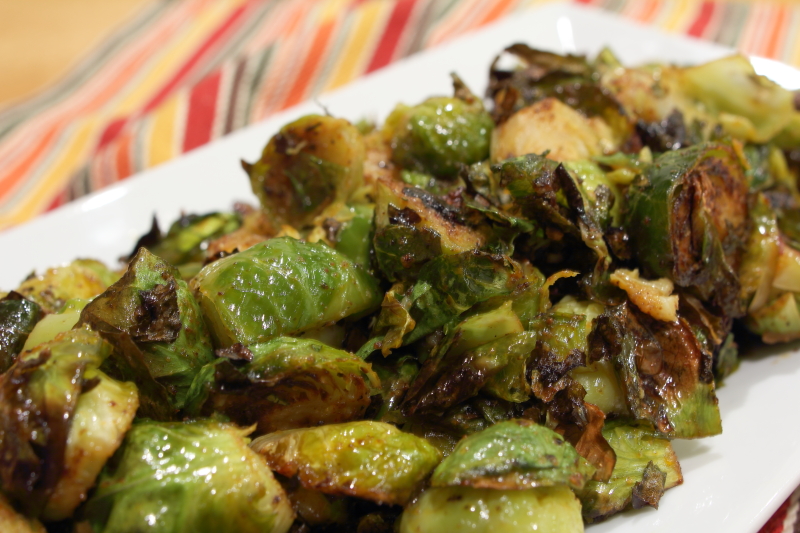 One of our favorite recipes is for roasted Brussels Sprouts. We also use Brussels Sprouts in our Paleo Breakfast Hash, which is another great Brussels sprouts recipe.  Brussels Sprouts are a staple in our house because they are easy and quick to cook, whether roasting, pan sautéing, or air frying.  And they are good for you!  One 100g serving of sprouts includes all of your recommended daily allowance of Vitamins C & K.  And at just 5 net carbs per 100g serving, these make a great low-carb and keto friendly side dish.

You can purchase pre-trimmed sprouts at many grocery stores, but trimming at home is super simple.  You just want to cut off any stem portions and remove any yellow or discolored outside leaves.  Once you cut the stem off, cut the sprout in half (or quarter them if they are large).  You want to create bite sized pieces.  Don't worry about extra leaves falling off, just toss those into the bowl as you go.
This recipe calls for 1 teaspoon of salt, which may be more or less salt than you prefer. Our general rule for salting is to use 1.5% salt by weight.  For 1 pound of sprouts (453g), this comes out to 6-7 grams of Himalayan Pink Salt from Costco. And that just happens to be right around 1 teaspoon, give or take.  But if you are using a different type of salt, your mileage may vary due to differences in weight and volume.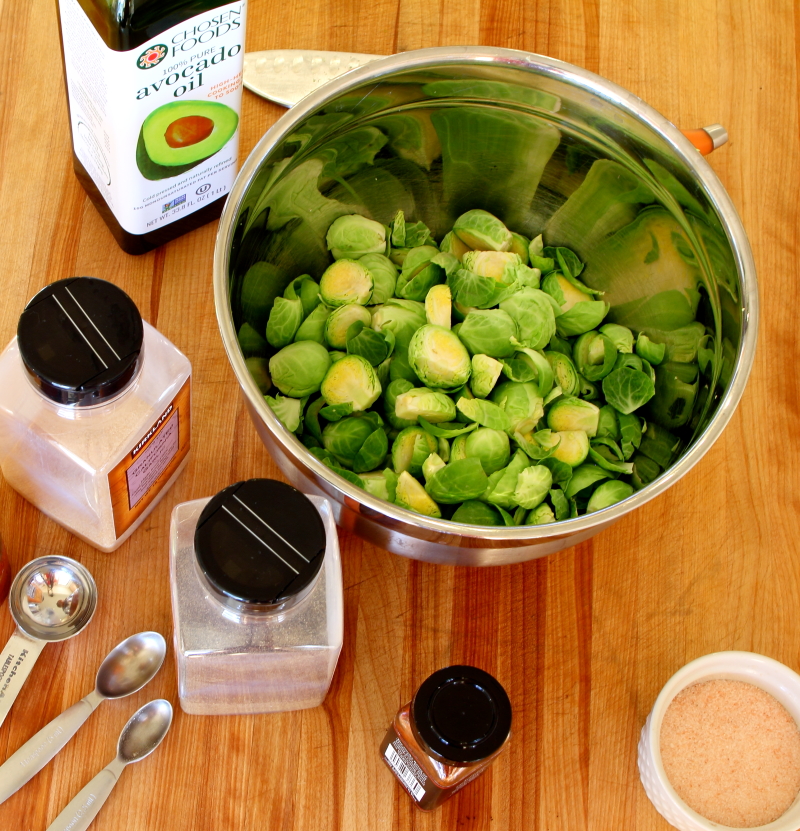 Once you have the sprouts trimmed and halved, toss them with the oil and spices BEFORE you spread them onto the baking sheet. This ensures an even coating of the spices before cooking.  We don't usually stir the sprouts during the roasting, but you may want to check on them about halfway through the cooking time to ensure they are not burning.  And, if you take the extra time to make sure that all of the sprouts are on the baking sheet cut side down, you won't be disappointed.  It's the contact between the sprouts and the pan in this Brussels sprouts recipe that creates the tasty browned, caramelized flavor.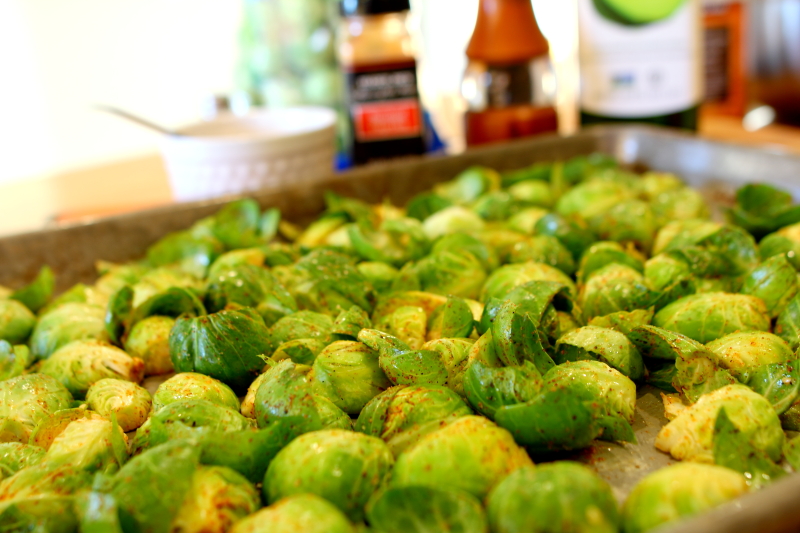 When preparing the sprouts for the oven, use a large bowl to collect the sprouts as you trim and halve them, and then toss with oil and spice.  I like to use a large metal bowl to toss the sprouts with spices, and then after they go into the oven, I add my ghee or butter and hot sauce to the bowl and place it on top of the toaster oven while the sprouts cook - by the time the sprouts are done, the ghee or butter is melted and its ready to toss.
This recipe for roasted Brussels sprouts is just one example of how you can "spice" these veggies up.  Try different types of hot sauces, dressings, or spices to mix things up! Roasted Brussels sprouts make a great side dish for just about any entree, and are great for any meal, including breakfast!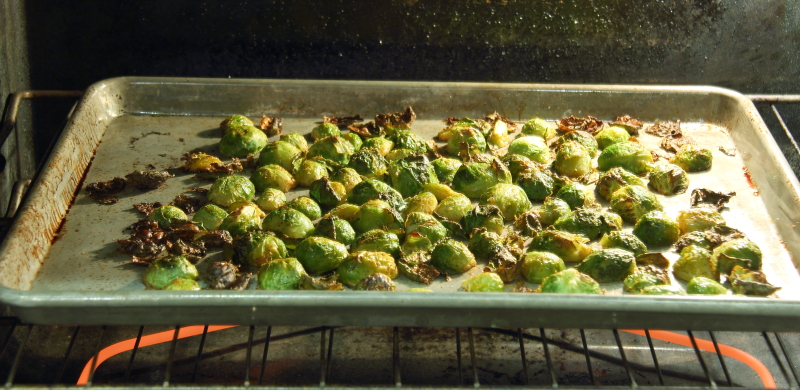 Spicy Roasted Brussels Sprouts Recipe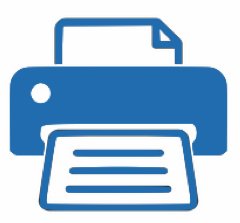 Download or Print
Prep time: 10 minutes
Cook time: 20-30 minutes

Servings: 4

Ingredients:
1lb Brussels Sprouts, trimmed and halved
1 tablespoon avocado oil (can also use olive oil)
1 teaspoon Salt
1/2 teaspoon Smoked Paprika (can also use sweet paprika)
1/2 teaspoon Garlic powder
1/4 teaspoon Ground black pepper
1 tablespoon melted homemade ghee (or grass fed butter)
2 teaspoons Tabasco (or favorite hot sauce)

Instructions:
Preheat oven to 400 degrees.
Trim Brussels sprouts by cutting off the small stalk end, then cut sprouts in half and place into a large bowl, along with any leaves that fall off.

Add avocado oil and toss to coat.
Add spices and mix well, then spread evenly onto the baking sheet, making sure to place the cut sides down if you want to get that extra tasty browning effect . 
Roast in the 400 degree oven for 20-30 minutes or until the sprouts are slightly browned and tender when pierced with a fork.
Mix the ghee/butter and hot sauce in a large bowl and then add sprouts and toss to coat.
Serve immediately.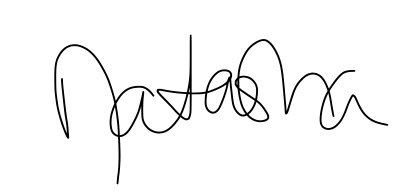 Products linked from our website are items we use in our house every. single. day. We recommend them because they provide value and contribute to our Paleo Charmed Life. If you click through our links and make a purchase, we earn a little cash, which helps us keep bringing new information to you online.