Lemon Chicken Recipe with Carrots and Potatoes
Paleo | Whole30 | Meats

Roasted chicken is a staple in our weekly rotation of meals.  We have tried a lot of different variations, but this lemon chicken recipe has become one of our favorites. We buy whole, organic, free range chickens for less per pound than buying already portioned chicken pieces.  We spatchcock the whole bird to reduce cooking time and use lemon zest, cumin, and garlic to create a compound ghee that seasons the chicken under the skin.  This lemon chicken recipe yields up to 8 servings, so it is perfect for a family meal, or for repeatable leftovers later in the week. 
We tried several different variations of this lemon chicken recipe before we figured out the best way to maximize the lemon and cumin flavor without being too complicated or requiring significant preparation time.  One way to ensure that you end up with juicy and flavorful chicken is to brine the chicken the night before cooking.  A simple brine with a 1:20 salt to water ratio, along with quartered lemons and peppercorns produces a great lemony flavor, but brining requires thinking ahead of time and isn't ideal for a last minute meal.  
To make this recipe more spontaneous, we shifted to using lemon juice in the compound ghee along with the lemon zest and other spices.  Unfortunately, getting the lemon juice to incorporate well into the ghee to create a spreadable paste takes a lot of whisking.  Our first attempt resulted in a runny mess - the second attempt took a good 5 minutes of hand whisking.  So although possible, it's not ideal when you are looking for an easy lemon chicken recipe.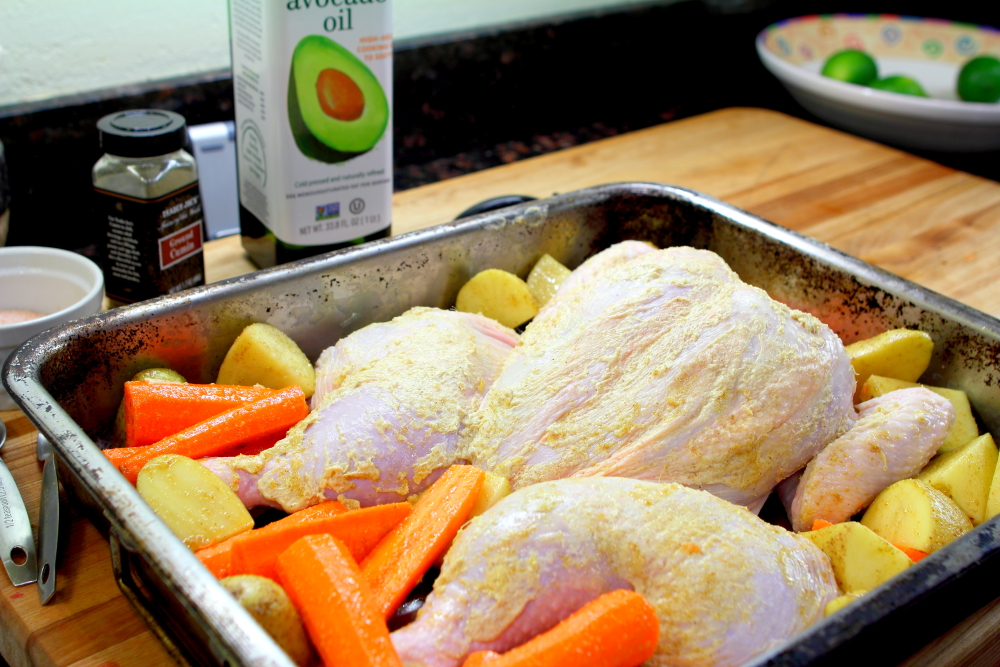 We finally landed on using lemon zest for the compound ghee and then quartering the zested lemons and placing them under the chicken during the roasting.  This final version gave us a great lemon chicken recipe, and because we spatchcock the chicken (see our How To page on this), we ended up with crispy, flavorful skin, and juicy, tender meat - all in less time that if we roasted the chicken whole.

Lemon Chicken Recipe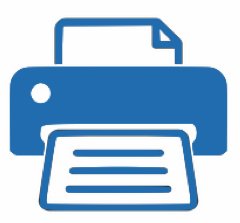 Download or Print
Prep time: 20 minutes
Cook time: 45-55 minutes

Servings: 6-8
Ingredients:
1 whole chicken
6-8 carrots
6-8 red or yellow potatoes
2 lemons
Spices for Chicken:
3 tablespoons homemade ghee (or softened grass fed butter if you're not Whole 30)
1 tablespoon cumin
4 teaspoons salt
zest of 2 lemons (about 2 teaspoons)
2 teaspoons minced garlic
Spices for Veggies:
1 tablespoon olive oil
2 teaspoons salt
1 teaspoon cumin
1/2 teaspoon ground black pepper
Instructions:
Preheat oven to 450 degrees
Prepare the vegetables by peeling carrots and cutting into halves or thirds and quartering potatoes.  Toss in a large bowl with olive oil, salt, cumin, and pepper.  Set aside. 
Unwrap the chicken, being sure to remove the neck and giblets (save for stock).  Pat dry with paper towels and then spatchcock the chicken by removing the backbone and ribs. 
Place the spatchcocked chicken in a large roasting pan, skin side up.  Using your fingers, work under the skin over the breasts and thighs, creating pockets without tearing any holes.  
After washing your hands, zest two lemons and then combine ghee, cumin, salt, lemon zest, and garlic in a small bowl to create a compound ghee. Cut the tested lemons into quarters and place under the chicken.  
Using your fingers or a small spatula, spread the compound ghee under the skin of the chicken, coating the breast, thigh, and leg meat.  Once you have covered the chicken under the skin, you can rub any remaining ghee onto the skin on the outside of the chicken.
Add the potatoes and carrots to the roasting pan, spreading evenly around the chicken.  
Roast in the 450 degree oven for 20 minutes, then turn the pan 180 degrees and roast for another 20-30 minutes or until the chicken breast registers at least 150 degrees with a meat thermometer.  
Remove from oven and let rest for 10 minutes.  After the chicken has rested you can divide into 8 portions by removing the drumsticks from the thighs, and cutting each breast into two portions. 
After removing the chicken and veggies from the roasting pain, discard the lemons and strain the pan juices into a small saucepan.  Cook on medium high until the liquid is reduced by half - this can be served as a pan sauce over the chicken and vegetables.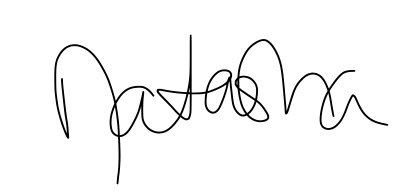 Products linked from our website are items we use in our house every. single. day. We recommend them because they provide value and contribute to our Paleo Charmed Life. If you click through our links and make a purchase, we earn a little cash, which helps us keep bringing new information to you online.