Zucchini Noodles with Ragu

Paleo | Sauces & Stocks

Pasta is one of the things we have mostly given up; Tasha is gluten free due to her colon cancer history, and I just feel better when I don't eat processed carbohydrates.  Zucchini noodles have become our "go-to" substitute for pasta, and make an ideal "delivery vessel" for the real star of this recipe - our homemade Ragu.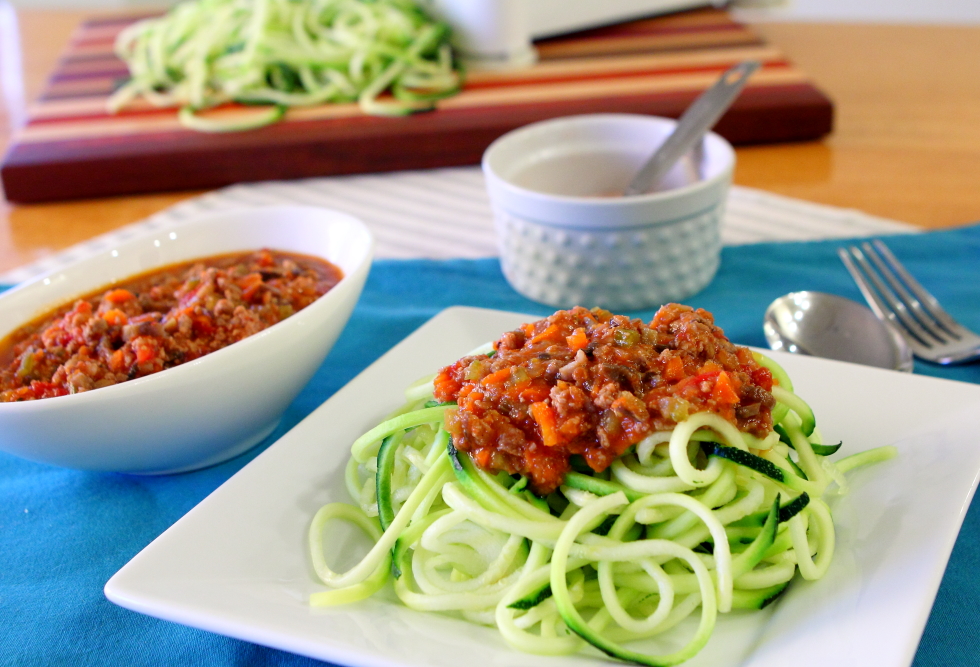 Growing up in an Italian family, tomato based sauces like ragu were a regular menu item for Tasha's family gatherings.  Her grandma Margie regularly cooked spaghetti for Sunday dinners and she always loved the combination of great food and family together, spending time with each other. We had spaghetti, lasagne, and other Italian based dishes in our family too - just about every week included at least one meal with red sauce or pasta!
To this day, Italian cuisine makes me think of my childhood and is a great comfort food. One thing we do miss in our Paleo & Keto lifestyle, though, is really good pasta - but this recipe makes up for it with a fantastic ragu meat sauce served over zucchini noodles. 
Ragu is a traditional Italian meat sauce, usually made with chopped or ground meat, sautéed vegetables, and cooked in a liquid.  The type of meats can vary and could include pork, beef, chicken, veal, or even lamb.  We prefer ground pork with our Italian Sausage spice mix for our simple ragu.  We also include a basic mirepoix of carrots, celery, and onions along with mushrooms and canned diced tomatoes.  Believe me, this recipe makes the house smell so very good, you'll want to cook it just for the aromatics. But once you taste it, you will fall in love - it is the epitome of hearty comfort food.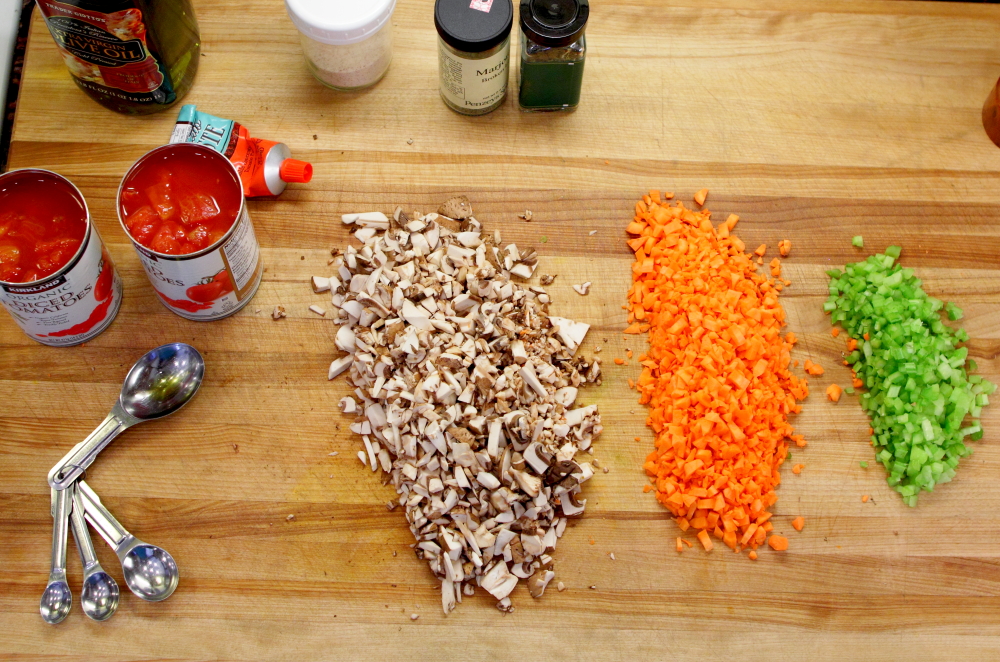 Mirepoix of carrots and celery and onions (not pictured), along with mushrooms and tomatoes - all ready to go into the pot!
One of the keys to getting this meat sauce to come together is to finely chop your vegetables.  They cook down into the sauce to create a mix of flavors, but if you leave the pieces too large they will not incorporate as well.  We have a Pampered Chef Food Chopper that makes quick work of the veggies and chops them very, very fine.   Another key is to make sure to use a large stockpot so nothing gets overcrowded and that you are patient when cooking the veggies - the goal is to cook them slowly until they are soft and turning towards translucent rather than to saute them too quickly.  Cooking them slowly with a bit of salt will help bring out their sweetness, especially the onions and carrots.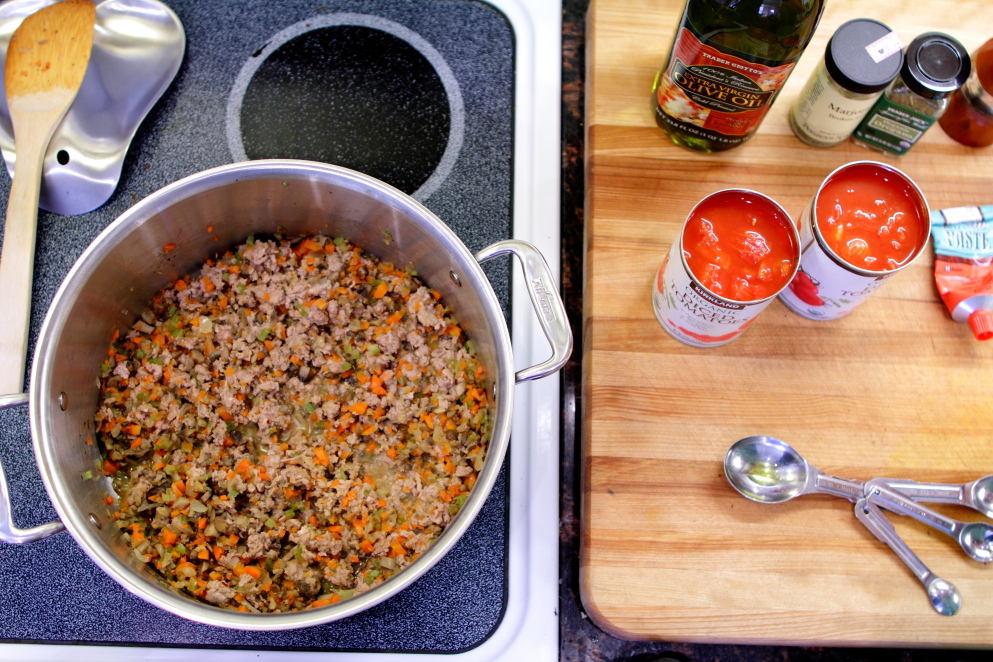 Veggies and ground pork are cooked and waiting for the tomatoes and final spices
We like to mix the ground pork and spices separately before adding to the pot to cook.  Mixing the Italian Sausage spice mix into the ground pork ahead of time seems to help to distribute the flavors better.  This meal really does come together relatively quickly once you have everything chopped. Once you get everything into the pot, you can sit back and relax and enjoy the amazing smells! 
In addition to the smells, the best part about this ragu recipe is that it makes a large batch - we usually get 8-10 cups of finished sauce, which translates to 8-10 servings per batch.  We freeze the extra in 2 cup portions, creating a super quick weeknight meal option.  Just pull a package out of the freezer, reheat on the stove top in a matter of minutes and serve over your choice of "noodles".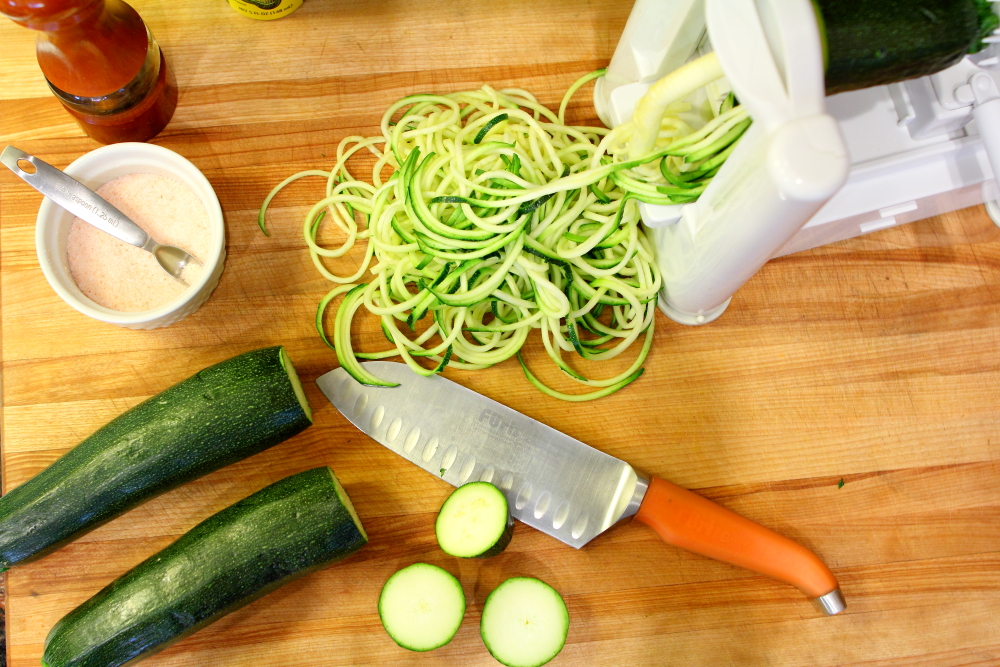 Speaking of noodles...we have explored a lot of different options to replicate "pasta".  We have tried a few commercially produced gluten free pastas, but most of them just don't have the same texture as traditional pasta.  After a lot of experimentation we have found that spiralized zucchini noodles makes the best compliment to our ragu (We use a Paderno World Cuisine Spiral Vegetable Slicer but there are several different models to choose from).
The first couple of times we made this recipe, we tried cooking the zucchini noodles first - that resulted in noodles that had lost their texture.  What we have found, and the way that we now prepare this meal, is to spiralize the zucchini as soon as the sauce starts to simmer.  Sprinkle a bit of kosher salt on the zucchini noodles once spiralized and then let them sit on the counter to come to room temperature.  This is especially important if they are coming out of the fridge.  When the sauce is ready, spoon it directly onto the zucchini in your favorite pasta bowl - the heat from the sauce will warm the noodles without losing their texture.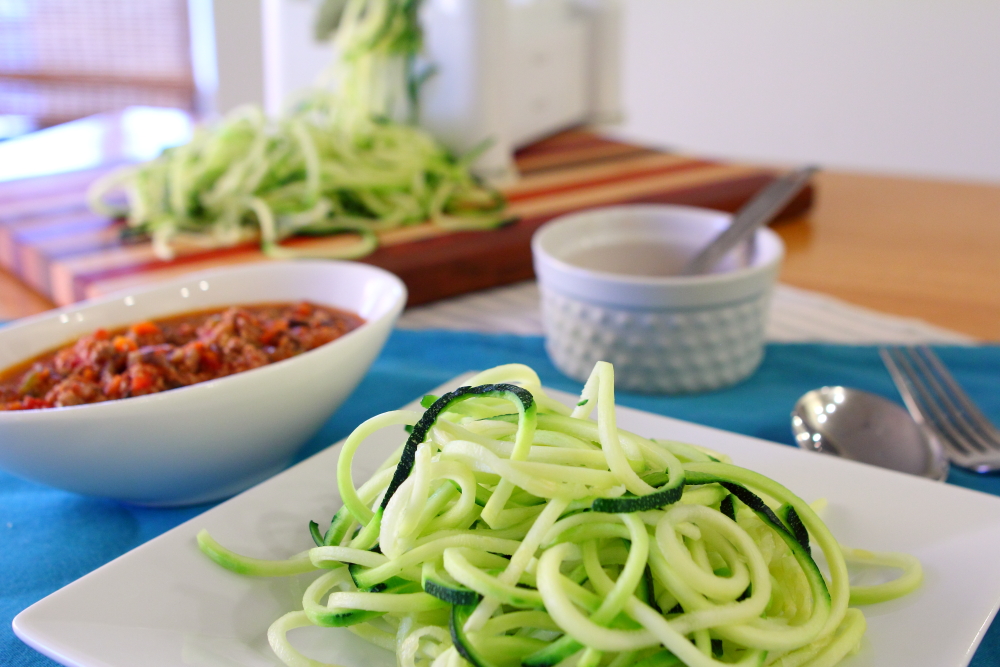 This zucchini noodles with ragu recipe has become a staple in our house - we always have some in the freezer for quick weeknight meals, and we love to cook up a big batch on a weekend afternoon to remind us of family and friends.

Zucchini Noodles with Ragu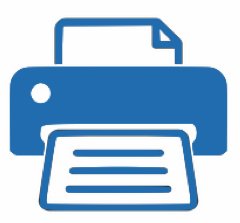 Download or Print
Prep time: 30 minutes
Cook time: 90 minutes
Servings: 4-6
Ingredients:
1 pound ground pork
3 tablespoons grass fed butter
1 tablespoons olive oil
3-4 medium carrots, very finely chopped
2-3 stalks of celery, very finely chopped
1 medium yellow onion, very finely chopped
2 teaspoons  salt
8 ounces mushrooms, finely chopped
2-14.5 ounce cans diced tomatoes
1 tablespoon tomato paste
1/2 teaspoon dried oregano
1/2 teaspoon dried majoram
2-3 medium zucchini, spiralized

Italian Sausage Spice Mix:
1 tablespoon red wine vinegar
1 1/2 teaspoons garlic powder
1 teaspoon ground fennel
1 teaspoon salt
1/2 teaspoon ground black pepper
1/4 teaspoon red pepper flakes

Special Equipment:
Spiral Vegetable Slicer - Spiralizer

Instructions:
Combine the ground pork with the ingredients for the Italian Sausage Spice Mix in a large bowl, being sure to mix well.  Set aside.

Next, heat a large stock pot on medium heat and melt the butter with the olive oil.
Add the carrots, celery, and onions to the pot, along with 2 teaspoons of salt.  Cover and cook for 5-8 minutes until the veggies have softened.  Add the mushrooms and cook, covered, for another 5-10 minutes until the mushrooms have given off their liquid.
Add the ground pork and stir well to combine with the vegetables.  Bring the heat up to medium high and cook for 10-15 minutes or until the pork is browned. Add the diced tomatoes, tomato paste, marjoram, and oregano and bring to a simmer. 
Reduce the heat to medium low, cover, and cook for at least 1 hour, stirring every 15-20 minutes.
While the ragu cooks, spiralize the zucchini and set aside to allow the noodles to come to room temperature. Sprinkle lightly with Kosher salt

Once the ragu is finished cooking, adjust the salt and pepper to taste and serve over the zucchini noodles.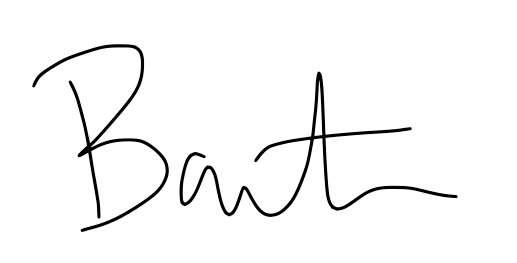 Products linked from our website are items we use in our house every. single. day. We recommend them because they provide value and contribute to our Paleo Charmed Life. If you click through our links and make a purchase, we earn a little cash, which helps us keep bringing new information to you online.