Homemade Marinara

Paleo | Whole30 | Sauces & Stocks

I have always loved Italian food, especially pasta with red sauce.  Spaghetti with meat sauce was a regular staple at our house, as was lasagne.  Of course, growing up, red sauce either meant canned tomato sauce with a few added spices, or prepared red sauce from a jar.  It wasn't until I was in college and started cooking for myself that I started to explore the world of homemade Marinara.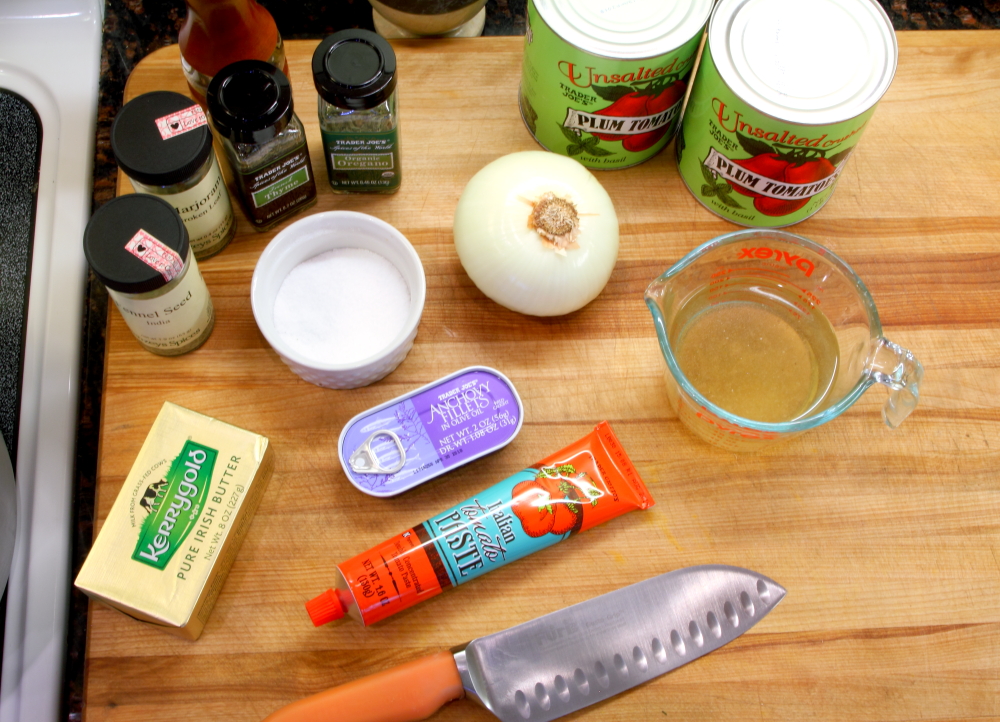 The first tomato sauce I made from scratch was a recipe from The Frugal Gourmet Cooks Italian.  The recipe used a combination of both high quality canned tomatoes and fresh tomatoes, along with a variety of other ingredients.  This homemade marinara had a light and fresh taste, but the fact that it had to cook for several hours, AND it was very hard to find really good fresh tomatoes on a college student's budget meant it was only made on special occasions a few times a year.
As I became a better cook and entered the real world with a full time job, this recipe was my go-to for marinara sauce.  I would spend a Saturday or Sunday afternoon making chicken stock (pre instant-pot days) and this sauce, and then freeze it so I had it on hand.  But it was still very time consuming and I wasn't completely satisfied with the ingredients.  So, I decided to develop my own recipe for homemade marinara - one that would have the same bright and fresh flavor, but that wouldn't take as much time (or cost) to make.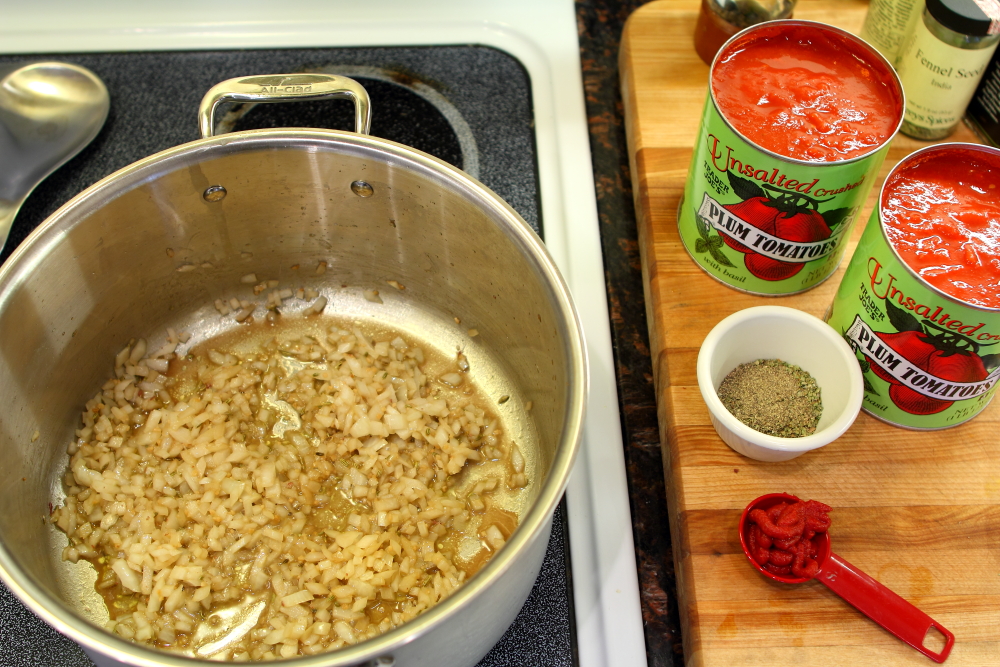 This homemade marinara recipe uses crushed canned tomatoes, yellow onion, garlic, anchovies, spices, and is finished with grass fed butter.  The result is a light, refreshing sauce that goes perfectly with any dish calling for read sauce.  We serve it over spaghetti squash, gluten free pasta when we are on a carbohydrate kick, on our keto pizza, over meatballs, and a variety of other dishes. 
The anchovies may sound a little strange, but believe me, they add a necessary amount of umami to go with the tomatoes and the grass fed butter.  They get sauteed with the onions and garlic early on, so there is never any hint of a "fishy" taste.  Trust me, they are an important "secret" ingredient.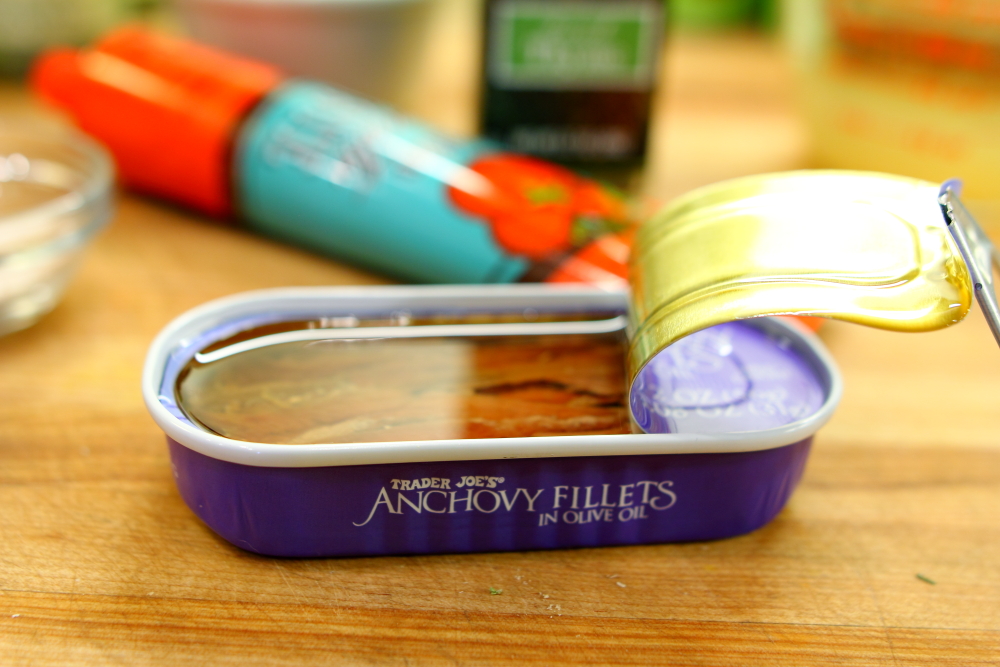 Almost as important is finishing the sauce with the grass fed butter.  We use Kerrygold, but any grass-fed butter will do.  At the very end of the cooking, add the butter and stir, watching it slowly melt.  It adds a richness to the sauce that completes it.  
This sauce is a perfect balance between affordable ingredients and ease of preparation - you could easily make a batch of this marinara on a lazy weekend afternoon when you have just a bit more time, and then freeze it for a quick sauce any night of the week.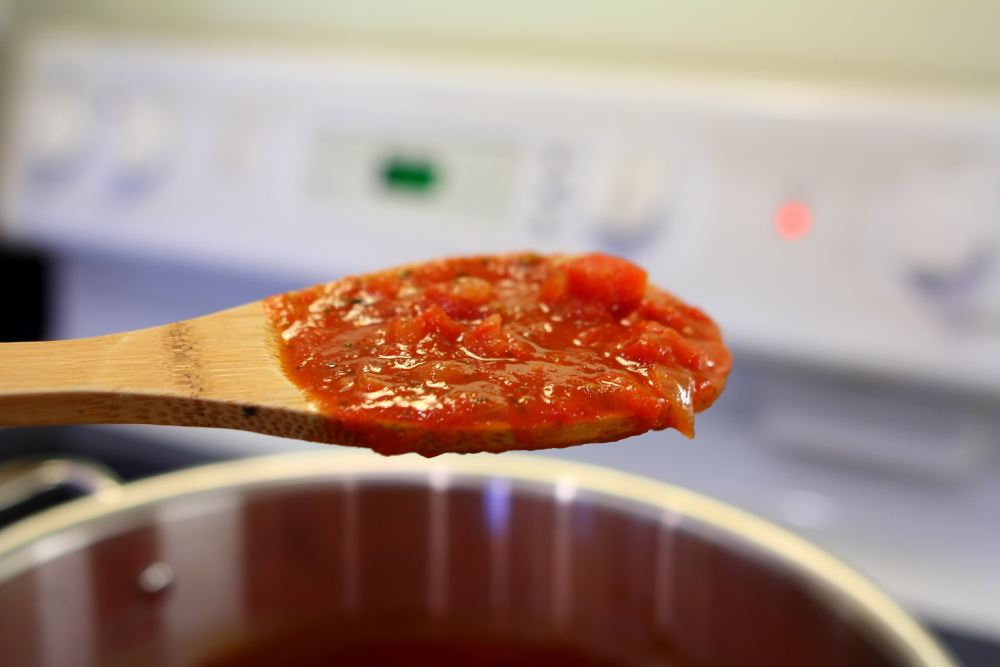 Homemade Marinara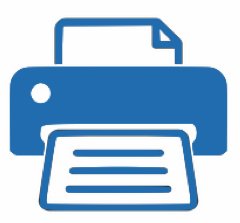 Download or Print
Prep time: 10 minutes
Cook time: 1 hour, 30 minutes

Ingredients:
2 tablespoons olive oil
1 table spoon minced garlic (4-6 cloves)
1 teaspoon fennel seeds
3-5 anchovy fillets
1 medium yellow or white onion, finely chopped
1 teaspoon salt
2 - 28 ounce cans of crushed tomatoes
1 tablespoon tomato paste
1 cup chicken stock
1 teaspoon dried oregano
1 teaspoon dried thyme
1 teaspoon dried marjoram
1/2 teaspoon ground black pepper
2 tablespoons grass fed butter (or ghee)

Instructions:
Heat a large stock pot over medium low heat. 
Add olive oil, garlic, and fennel seeds and cook for 8-10 minutes to flavor the oil.  Don't let it burn - it should not be sizzling.  While the oil flavors, I like to chop the onion and measure out the spices.

Raise the heat to medium high and add anchovies, cooking for 5 minutes.  The fillets will begin to fall apart and dissolve as you stir them around.
 
Add onions and salt and cook for 5-8 minutes or until tender.
Add the tomatoes, tomato paste, chicken stock and spices, stir well to combine, and bring to a simmer. 

Reduce heat to medium low and cover and cook for 1 hour, stirring every 15-20 minutes.

Adjust salt and pepper to taste.  Add butter and stir until melted.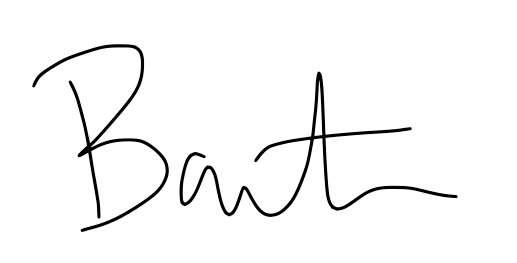 Products linked from our website are items we use in our house every. single. day. We recommend them because they provide value and contribute to our Paleo Charmed Life. If you click through our links and make a purchase, we earn a little cash, which helps us keep bringing new information to you online.