Easy Instant Pot Carnitas Recipe

Paleo | Whole30 | Meats

This Instant Pot carnitas recipe was born when we ended up with a cut of pork in our freezer that we didn't know much about.  
Our favorite butcher shop has regular specials on "Boxes" - which are exactly like they sound - a box of pre-determined cuts and amounts of meat for a price less than what you would pay to buy them separately per pound.  When the pork box full of things that we always buy, like pork chops and bacon, went on sale, I quickly ordered one.  When I was putting the meat in my freezer I noticed that included in the box was a sirloin tip roast, but at that time I didn't think much about how I would end up preparing it.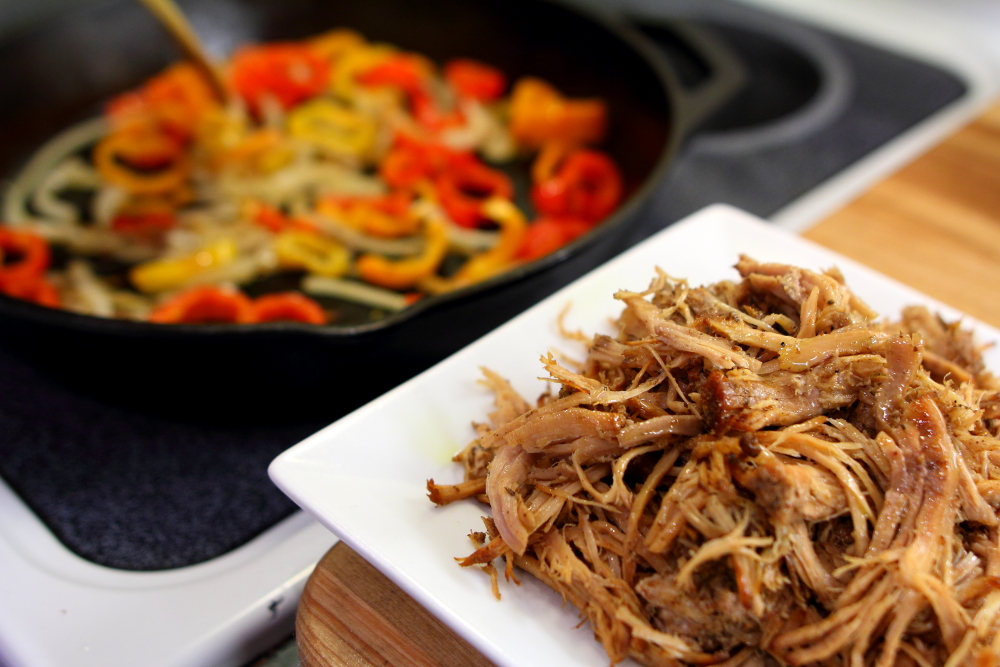 Sirloin Tip Roast?
Fast forward a few months to one of our "cook from the freezer" weeks, where the only things I buy are fresh fruits and vegetables and we make meals entirely from whatever protein is in the freezer (when things go on sale I always stock up).  There was that pork sirloin tip roast, still in the freezer, waiting to be cooked.  So I took to the internet in hope of learning more about this cut of meat and how the heck I was going to cook it.  

Google told me it comes from an area of the pig between the loin and the leg, which produces a somewhat irregular-shaped piece of meat that contains a lot of muscle and connective tissue, but little fat.  Therefore, in order to break down the connective tissue, I knew it would need to be slow cooked, and since it wasn't a uniform shape, pulling it instead of slicing it after cooking seemed the most logical choice.  
My first choice for any type of slow cooking these days is my Instant Pot (electric pressure cooker) and I already had "instant pot carnitas recipe" on my list of things to develop for the website so I figured I would give it a try—and boy am I glad I did because once the meat is cooked, there are SO MANY different meals you can make from this one instant pot carnitas recipe.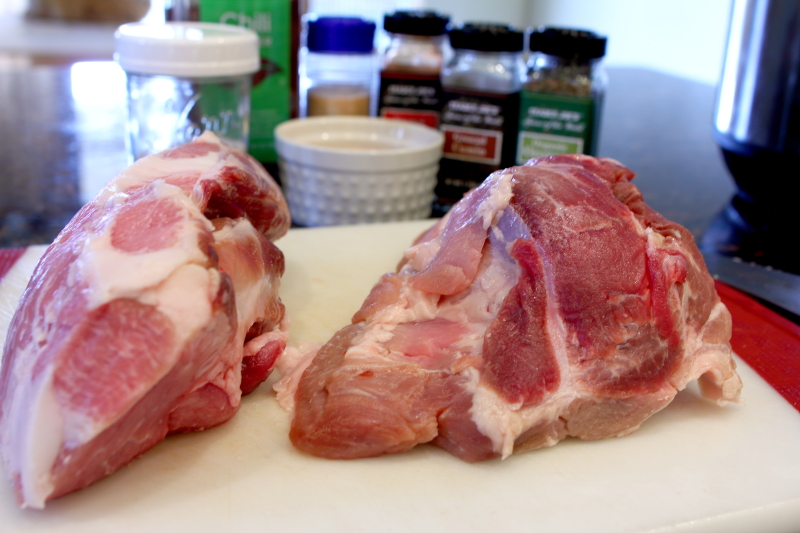 This carnitas recipe uses a dry spice rub to add flavor when browning, and during the pressure cooking. As with any dry spice rub, make sure you measure and combine all of the spices in a bowl and mix well before applying to the meat.  For this Instant Pot carnitas recipe, you may need to cut your roast into two pieces, depending on the size of your roast and the size of your Instant Pot.  This also increases the amount of surface area available to apply the spice rub and brown the meat, which creates added flavor.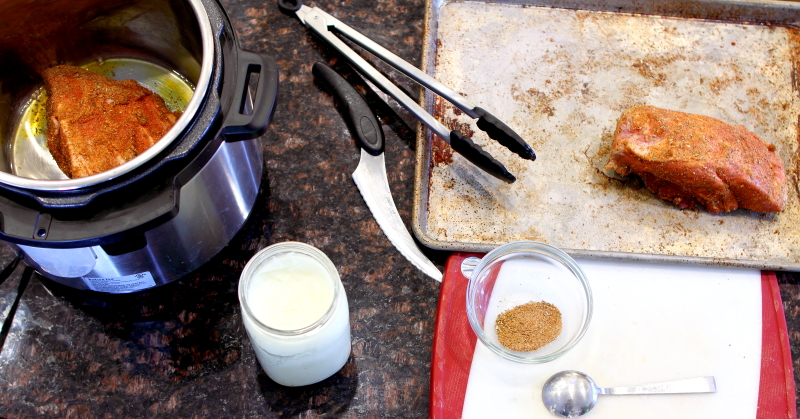 One of my favorite features of the Instant Pot is the ability to brown the meat using the sauté setting, saving me from having to wash an additional frying pan AND adding lots of flavor to the cooking liquid.  To keep this instant pot carnitas recipe authentic, I used lard as my cooking fat, but if you don't have access to that, you could substitute ghee, which also has a high smoke point and a relatively neutral flavor.  
Keep an eye on the meat when you are searing the sides - it will only take a couple of minutes to get a nice brown color. Once the meat is browned and the other ingredients are added, let the Instant Pot do its job and you will be rewarded with a tender, flavorful carnitas in less than two hours.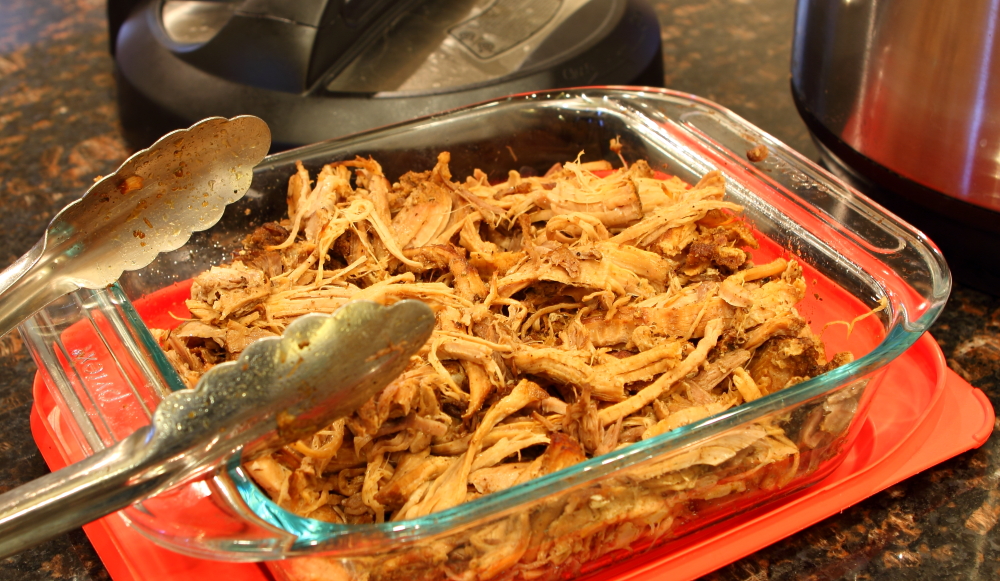 Instant Pot Carnitas Recipe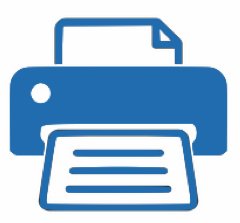 Download or Print
Prep time:  15 minutes
Cook time: 90 minutes

Ingredients:
Large Sirloin Tip Roast (about 3 pounds)
4 tablespoons lard, divided (can substitute ghee)
1/2 cup pork bone broth (can substitute chicken stock)
2 bay leaves
1 medium yellow onion, halved
2 carrots, halved
Spice Rub
2 tablespoons cumin
1 tablespoon salt
2 teaspoons oregano
2 teaspoons coconut sugar (omit for Whole 30)
1 teaspoon chili powder
1 teaspoon garlic powder
1 teaspoon smoked paprika
Special equipment:
Instant Pot or other pressure cooker

Instructions:
Cut the roast in half (if necessary) and dry all sides with a paper towel.
Combine the spices in a small bowl and then rub onto both pieces of the pork roast, being sure to cover all sides.  
Turn Instant Pot on and set to Sauté.  Once hot, melt 2 tablespoons of the lard and then sear one piece of the pork roast on all sides, about 1-2 minutes for each. Remove to a resting plate, add the remaining 2 tablespoons of lard and sear the second piece of the pork roast on all sides. Remove.
Add bone broth to instant pot and use a metal whisk or spatula to deglaze the bottom of the Instant Pot, being sure to scrape up all of the bits.  
Turn the Instant Pot off and then add the halved onion, carrots, and bay leaves.  Place both pieces of the pork roast on top of the vegetables.
Secure the lid, make sure the valve is on Sealing, and turn the Instant Pot on for manual, high pressure and set to 90 minutes.
After 90 minutes, manually release the pressure and remove the lid.  Transfer the meat to a dish and pull apart using forks or tongs.  Strain the cooking liquid and then pour 1-2 cups back into the dish with the meat for flavor. 
You can serve as is for tacos or nachos, or cook together with peppers and onions for even more flavor.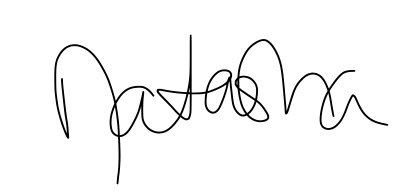 Products linked from our website are items we use in our house every. single. day. We recommend them because they provide value and contribute to our Paleo Charmed Life. If you click through our links and make a purchase, we earn a little cash, which helps us keep bringing new information to you online.